Kahoot!
3.6.5
Quiz App – Fun Way to Enhance Your General Knowledge
Do you like playing trivia games? Are you interested in answering quizzes? If yes, then this quiz app is an excellent choice for you. Kahoot! is a cool app in which you get the chance to learn new things and test your memory skills while answering quizzes containing multiple-choice-questions. It makes learning fun by letting you compete with other people. You can choose to answer the quizzes that have been created by others or create one of your own. Since quizzes can be made on any topic, teachers can create a quiz based on what they have been teaching the kids in the classroom. These quizzes can also be used as a form of homework for the children which will be easier to grade for the teacher.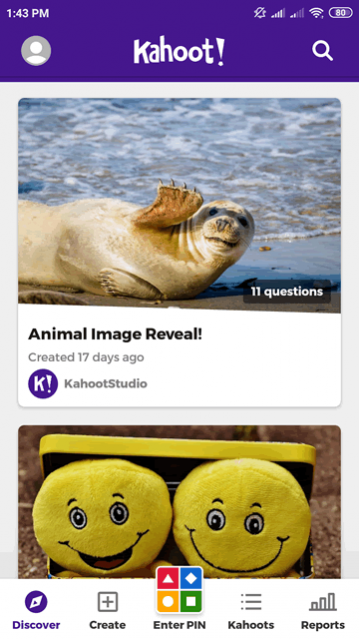 Kahoot! has an intuitive user interface which goes well with its user-friendly design and layout. The combination of these features makes this quiz app easier to use for just about anyone. You will find various quizzes lined up on the home screen of the app. These quizzes are on a variety of different topics and you are sure to find one that suits your interest. Playing a quiz is simple. You just click on its title and then decide what mode you want to play it in. There are three modes available. You can play solo in the 'Practice' mode or go up against other players in the 'Challenge' or 'Host Live' modes. The practice mode is ideal for first-time players as it gives you the chance to get used to the gameplay.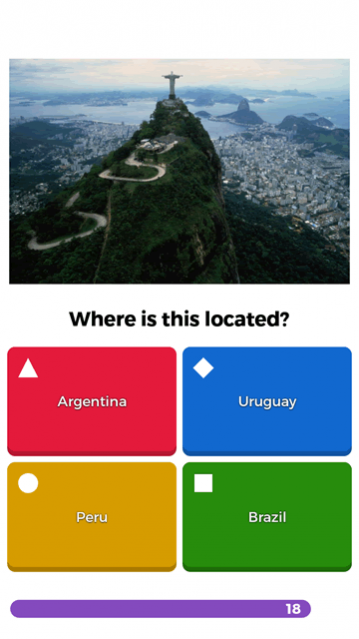 The multiplayer modes offered in this quiz app are of two different varieties. You can either challenge players who aren't online or host a live game with online players. In the Challenge mode, you can complete the quiz and wait for others to finish it in a given period of time. When hosting a live game, all the players play simultaneously. In both the Challenge and Host Live modes, the person creating the challenge or hosting the game needs to share a pin with the other players. This pin can then be used to join the challenge or the live game. You can share the pin via different sharing apps like WhatsApp. Each quiz you play comprises of various multiple-choice-questions. You need to pick the right answer from a choice of four.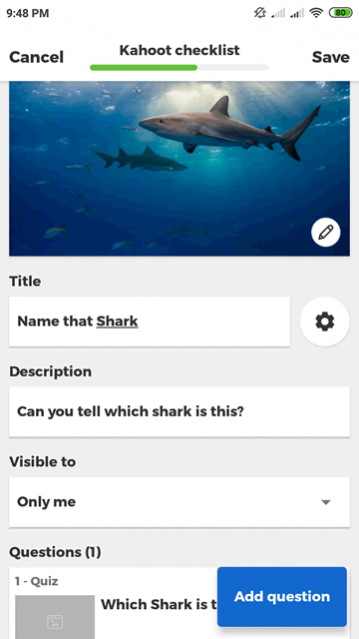 Kahoot! gives you the chance to create quizzes of your own. You can easily create a quiz by using the quiz-creation guide. Before you start making a quiz, you will have to sign up first. You can use your Google ID for this purpose or create an account using an email ID. This quiz app is going to ask you a few questions to get an idea of your interests and how you will be using the app. After completing this process, you can begin creating your quiz. You will have to choose a title for the quiz and an image. This image can be uploaded from your gallery or sourced from Getty Images. The option for searching the images on Getty Images is provided within the app.
Features:
Intuitive user interface
User-friendly design and layout
Lots of quizzes to choose from
Quizzes available on multiple topics
Pick your answer from four choices
Score points for answering correctly
Answer quickly to earn extra points
Challenge online players for a live game
Host games by sharing a unique game pin
Option available to create your own quiz
Practice mode available for honing your skills
Conclusion:
Kahoot! is an app which is ideal for generating interest of the students in learning while they are in the classroom. It provides the teachers the opportunity to make the learning process a fun exercise for the kids in which they can participate happily. It is an excellent quiz app and is worth trying for people of all ages.
---
Add a review
Tell us your experience with
Kahoot!
3.6.5
RELATED PROGRAMS
Our Recommendations
---
---
---
---